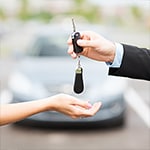 If you are looking for a used vehicle, but aren't sure where to start, use the following guidelines to help you make an informed decision before stepping foot on your next used car lot.
Set a Budget- Know ahead of time how much you can afford, and never let a pushy sales associate convince you to pay extra.
Know What You Want- Knowing what kind of vehicle you are looking for in advance can really shave down your time spent on the car lot. This includes any features or add-ons you are looking for, so be thorough in your descriptions.
Test Drive It- Before making a final decision on your purchase, be sure to take the vehicle out for a spin. Doing so can help you identify problems the car may be having, and thus may help you avoid unnecessarily purchasing a lemon.
To conclude, setting a budget, knowing what you want and taking the vehicle out for a test drive are all necessary steps you should consider when purchasing your next used vehicle.